QUESTIONS
| | |
| --- | --- |
| Event Date/Time: Jun 25, 2011 | End Date/Time: Jun 25, 2011 |
| Registration Date: Jun 06, 2011 | |
| Early Registration Date: Jun 23, 2011 | |
Description
As a service to our clients and other companies that want a solid understanding of online marketing, we are conducting a one-day seminar on the tried, tested, and true web marketing strategies you MUST employ if you wish to survive in this digital age.
This Online Marketing Boot Camp will be lead by Jim Slaton who was an Airborne Ranger with the United States Army Special Operations before becoming an experienced marketing consultant. Like Boot Camps of military organizations this seminar will be packed full of valuable information and very thorough. 
Can't see the video above? CLICK HERE!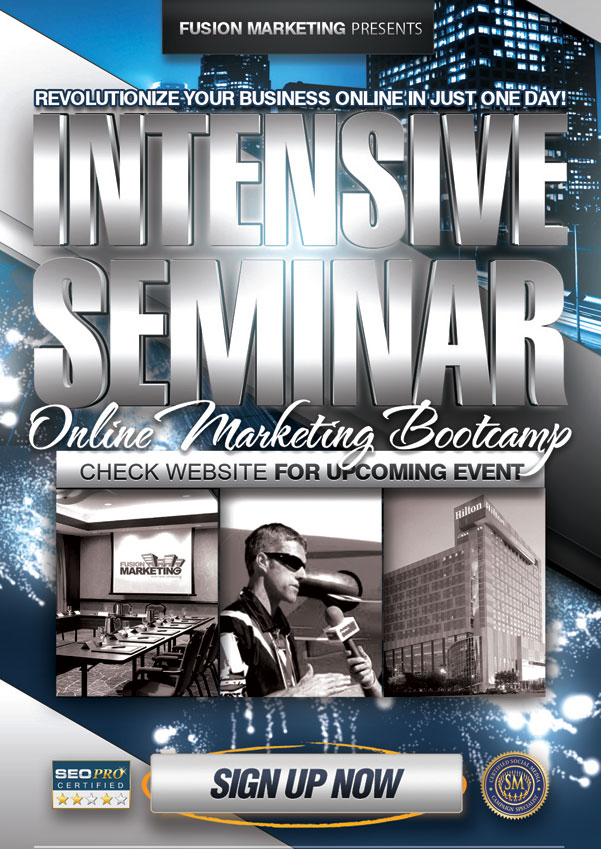 ONLY 20 SEATS AVAILABLE FOR THIS INTENSIVE SEMINAR!
We know what we're doing. And we've helped dozens of companies get on track online. Our intensive training seminars are better than anything else you'll see out there. We know it.
This seminar will be conducted at the exquisite Hilton Hotel in downtown Houston. The boardroom and meeting facilities are technologically sophisticated. Click here to see the floor plans and pictures of the hotel and meeting rooms.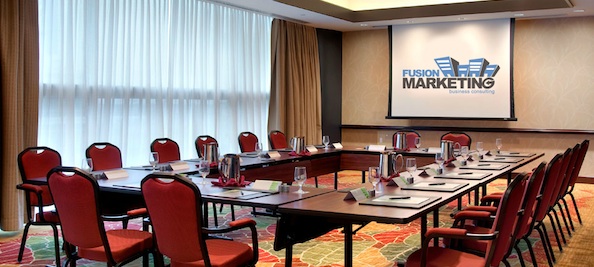 YOU MAY BE INTRESTED IN THIS SEMINAR IF


You've attempted to create a website and/or market yourself online, and you've had little success or added revenue.




Your competition is marketing themselves online and you need to keep a competitive edge against them.




Traditional advertising is losing its effectiveness and costing you more money than it earns.




You have an employee, or want to hire an employee to maintain your website, keep a company blog, or promote your company online.




You want to capitalize on the HUGE opportunity with social media like videos, podcasts, online radio, and social networks.




You plan to outsource your online marketing and want a basic education in key strategies so you can effectively manage them without being taken advantage of or getting confused.


IF THE MAJORITY OF YOUR MARKETING IS NOT ONLINE IN THE NEXT THREE YEARS IT COULD PUT YOU OUT OF BUSINESS
Over the next three years 66% of offline businesses, from small businesses and sole proprietorships to large public corporations, will move the majority of their marketing online.
This includes your competitors.
Add to this the fact that 60% of companies find online marketing more efficient and profitable than traditional marketing AND that 74% of businesses plan to increase their online spending over the next three years…
IF YOU ARE NOT ESTABLISHING YOUR PRESENCE ONLINE AND EFFECTIVELY GRABBING YOUR ONLINE MARKET SHARE, THEN YOUR COMPETITORS WILL STEAMROLL OVER YOU IN THE COMING YEARS
But not to worry! We've got you covered with our intensive training seminars.
We know that you're already swamped with your day-to-day business responsibilities.
So our seminar will tell you the exact step-by-step tasks you need to do to get your company online and get the most ROI out of the least effort, time, and money.
We'll even show you how to get someone else to do it for pennies on the dollar.

For example:
Do you know that the first ten results in any online search get 98% of the traffic—and the one two second change you can make to your website to beat out most of your competitors?
Do you know how to keep visitors on your website longer, and convince them to contact you, make a purchase, or sign up for an email list?
There is a way to get hundreds of websites linking back to yours in as little as three days. And for free. Do you know what it is?
We have an arsenal of free and low-cost tools that can save you hundreds of hours of time, automate a lot of tasks, and drastically increase your bottom line. Do you know what any of them are?
How many people visit your site each day? How long do they remain, and what pages do they visit? How many of these people's email address do you capture or make a sale? Most importantly… Do you know how to test elements of your site to improve all those statistics?
We'll show you how to easily gather and track all this vital information, show you the vital tools you need and how to use them, and give you invaluable tips that will revolutionize your website and its visibility in a matter of days.
WE'LL REVOLUTIONIZE YOUR BUSINESS ONLINE IN A SINGLE DAY – GUARANTEED OR YOUR MONEY BACK
We know what we're doing. And we've helped dozens of companies get on track online. Our intensive training seminars are better than anything else you'll see out there. We just know it.
Because not only do we show you exactly how to do things like:


Reverse engineer your competition's website and marketing strategies


Get 1st page rankings on Google in as little as a few hours


Conduct an entire search engine optimization campaign successfully


Increase your website's conversions by 200% or more


Get instant traffic to your website with Google Adwords


Capitalize on social media sites and tools for explosive traffic and sales


But we also give you the most comprehensive home-study workbook and Post-Training Materials ever created for traditional businesses to market themselves online – EVEN IF YOU CURRENTLY HAVE ZERO KNOWLEDGE ABOUT THE INTERNET!
Everything is covered step-by-step and we refer you to hundreds of free tools, resources, and additional free training if you're interested.
Best of all, we keep each Intensive Training intimate and small. A maximum of 20 attendees. This way, we can spend time on YOUR business and workshop your website, current promotional efforts, and anything else you'd like us to help you with.
This is priceless. We sit with each attendee and go over a particular aspect of their online marketing or website and provide actionable advice and answers that will increase conversions, reduce costs, and solve challenges.
Not only will you receive these benefits for your own company, but you'll benefit from the advice we give to every other business in attendance – questions you never thought to ask, and challenges you'll one day face and will now prevent or know exactly how to solve.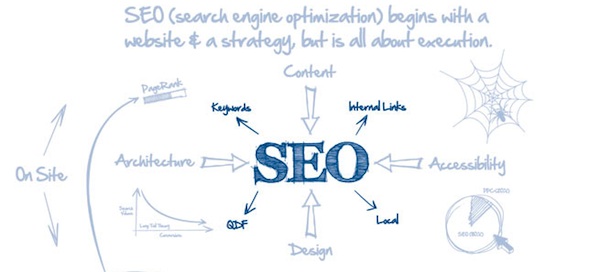 BUT YOU MUST ACT QUICKLY! SPOTS ARE LIMITED!
Unfortunately, every second you aren't marketing yourself effectively online is costing you money, market share, and opportunity costs. Your competition is online and with the new developments in social media, video promotion, and more, they can quickly and easily grab enormous segments of your buying audience. Due to the intimate nature of social media, the relationships your competitors build with your audience will be hard to break.
In this day and age, once you lose a prospect to a competitor, they will be hard to win back. So will it be your company that gets the large chunks of your audience that is currently up for grabs, or will your competition get them, effectively putting you out of business? How Could That Put Me Out of Business?
Because the bulk of your market is spending its time online. Up to 83% of internet users! And 73.1% of all Americans are internet users. You lose out on that large a piece of your market, while the other companies in your industry are grabbing them up, and yes – within three years, you'll likely go out of business.
We're not trying to bum you out here! But these are the statistics and facts we face and our marketing firm takes pride in the fact that we're doing something about it and helping prevent any negative repercussions from these wonderful new developments online!
JOIN US ON JUNE 25, 2011 FOR THIS TRAINING
We normally charge $1,997 for this same seminar when we hold it outside of Houston (our company headquarters). However, the risk-free investment for this intensive training plus the study workbook and post-training resources is only $997 if you registration online or $1,297 if you pay at the door. If you choose to pay at the door you must pay a non-refundable deposit of $397 to reserve your seat at the seminar. See "ticket information" at the top of the page for more details. 
Our No Risk 100% Money Back Guarantee
We're so confident that we happily invite you to attend our one-day training at absolutely no risk to you. If, during the first two hours of our training, you decide this isn't for you, you are welcome to leave and request a refund. No questions asked.
By registering for this event you will get Step-by-Step Training on:


Creating or Re-designing a website for converting sales


Reinforcing Company brand & Identity Online


Conducting Competitive Analyses on you & your Competition


Reverse Engineering the efforts of Successful Companies in your industry so you can emulate them


Conducting a Search Engine Optimization Campaign


Conducting a Pay Per Click Campaign


Creating & Promoting Videos


Blogging


Creating a Suite of Social Profiles


Marketing your Company via Social Media


Tracking Statistics & Conversion Testing


How to Outsource Anything you don't want to do yourself


And much more!


You will also get an Attendee Workbook for Home Study that includes:


Exercises for Implementing everything you learn at seminar!


Checklists for each & every topic covered!


Post-Training Resources including hundreds of free resources, tools and training materials & several step-by-step tutorials!


WHO SHOULD ATTEND
Small Business Owners, entrepreneurs, sales and marketing reps, Realtors, companies that have marketing managers or social media department, anyone wanting to learn Online Marketing and anyone trying to build an Online presence.
ONLY 20 SEATS AVAILABLE SO REGISTER BEFORE WE SELL OUT!
Like we said earlier, we're convinced that our intensive training will revolutionize your business online, increase your profits, and help give you the leverage you need to beat out the competition once and for all.
We're so confident that we happily invite you to attend our one-day training at absolutely no risk to you. If, during the first two hours of our training, you decide this isn't for you, you are welcome to leave and request a refund. No questions asked.
MEET YOUR SEMINAR LEADER
Jim is an experienced internet marketer who is a very effective communicator. Jim is a high energy speaker with an action packed life that is over flowing with valuable experiences to share with you and your company…
SERIAL ENTREPRENEUR: Jim is a serial entrepreneur who has built and sold many online businesses. Jim plays an active role in all his business ventures with experience in project management, internet marketing, mobile marketing, inbound marketing, SEO, PPC, web design, graphic design and more.  Jim is currently a paid motivational speaker, consultant, coach and marketing manager. Jim Slaton understands that the right advice is the difference between success and failure.
SPECIAL FORCES MILITARY LEADER: Sergeant Jim Slaton was a Airborne Ranger in the US Army who learned leadership from the Military Academy (Primary Leadership Development Center). Jim was part of the United States Army Special Operations Command and graduated from some of the military's hardest schools including the US Army's Air Assault School, US Army Airborne School, US Navy's S.E.R.E. School (Survival, Evasion, Resistance and Escape), R.I.P (Ranger Indoctrination program), US Air Force's Close Air Support School, Cold Weather Environmental Survival training & more. Sergeant Jim Slaton was honorably discharged from the Army in 1998.
NATIONAL PARACHUTE CHAMPION & STUNTMAN: Jim Slaton founded the World Parachute Stunt Team (WPST) and was the 1st US National Champion of Parachuting (Canopy Piloting) in 2004. Jim is a parachute stuntman and coach with over 10,000 parachute jumps. Jim also founded the Pro Swooping Tour, the Canopy Piloting Circuit, and the Ground Launch Center. Jim was responsible for building and presenting the new sport of High Performance Canopy Piloting to the International Parachute Committee (IPC) in 2003. This new sport is now in the test trials for the Olympics.
Check out our website for more details
Venue
Types